'An exercise in stillness', this superb oil-on-wood study of a the famous Overberg historical landmark "Dangerpoint Caretaker" painted by Hermanus based local artist Terry Kobus.
Terry and some of his works have been featured in an earlier post on this website. Most paintings, in the artist's own words ". . capture moments in time away from big city in the grasslands of the Drakensberg and Transkei and along the beaches of the Western Cape."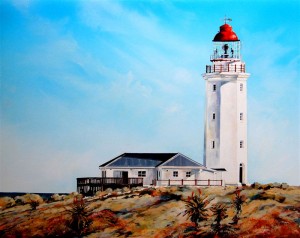 For me this painting is no exception and beautifully captures the deep tranquillity, the stillness, of the landscape in this beautiful part of the coast near Gansbaai and Hermanus.
Danger Point Lighthouse was built in 1895. Danger Point was named Ponte de Sao Brandao by Bartholomew Dias on 16 May 1488. The light house received its name because of the treacherous reef and submerged rocks which make this a very hazardous passage for ships hugging the coast. The tower itself has an interesting octagonal construction.
You can find Terry at work most days in his studio at the Originals Gallery in Hermanus. It's right in the heart of the waterfront area of Hermanus and it's also known as a very popular destination for land-based whale-watching tourists.