Not many people know that 24 living languages are spoken in South Africa today. Of these, according to some estimates, Afrikaans is spoken by around 23 million people, or 46% of the population of nearly 50 million people.
At the other end of the scale, an almost extinct Khoisan language known by various names, including Ng'uki, is spoken by just 12 known individuals. These rare Ng'uki speakers are scattered about South Africa in isolated 'ones' and 'two's'.
The next smallest group numbers just 87 persons. They speak a marginal Khoisan language called Xiri. Also known as Grikwa or Griqua, it will soon join the other now extinct Khoisan languages of Seroa, Korana and Xam. The Khoisan were the original inhabitants of Southern Africa. The Bantu migrations from Central and East Africa towards the south eventually reached the southern African region, replacing the Khoisan as the predominant population. Today the largest Khoisan language group numbers 50 900 (2006) and speaks a language called Nama.
After 1994, legislation was introduced to proclaim 11 Official languages: Sepedi, Sesotho, Setswana, siSwati, Tshivenda, Xitsonga, Afrikaans, English, isiNdebele, isiXhosa and isiZulu. However, in practice English is the language of business, government and education.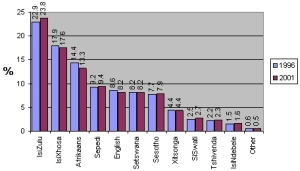 Languages of South Africa (click to enlarge)
The vast majority of South Africans speak two or more languages. One of these is likely to be either Afrikaans or English.
Nearly all South Africans have at least a rudimentary knowledge of Afrikaans. The origin and development of the Afrikaans language is in itself a fascinating story.
In the 1600s Afrikaans was born at the Cape of Good Hope as a derivative of the West Germanic, Dutch language. In the dungeons of the Cape it was shaped by English, French, Portuguese, Malay, Khoisan, Xhosa and Zulu influences. Over a span of four centuries Afrikaans has continued to evolve to the present day.